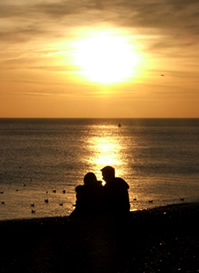 Getting Married?
We'd love to help you plan and pay for your honeymoon!
Congratulations, you're in right place to begin building your Empire Divers SCUBA Honeymoon Registry!
Empire Divers customizes personal training schedules for busy couples like you! We understand how time-consuming and expensive wedding planning can be -- juggling work and your daily to-do list along with caterers, florists, bridal parties and in-laws can be really demanding. With a little home study, we will prepare you to become certified PADI Open Water divers in just a few days and with our FREE Honeymoon Registry your guests can pick up the tab!
The process is easy.
Register for free with us!
Select the SCUBA gift packages and items for your registry

Spread the word to your friends and family

Collect your gifts and start your adventure!
Browse our sample Empire Divers exclusive Honeymoon Registry packages, with an itemized list offering the highest quality diver education and equipment available.
From the all-inclusive SCUBA course work to full Equipment packages.
Enter your honeymoon destination, outline your SCUBA activities and be on your way to the romantic honeymoon adventure of your dreams.
It's simple for your wedding guests to select their gift instead of another place setting. And they'll be thrilled knowing they gave you exactly what youw anted from your Empire Divers SCUBA Honeymoon Registry!
Simply click on the link below to set up your account. We'll provide you a registry page to share your honeymoon plans with your wedding guests.
Friends and family visit your page and use their credit card to give a gift toward part of your entire Empire Divers SCUBA Honeymoon experience.
Redeem your (monetary) gifts at any time -- book your SCUBA training -- purchase your equipment -- to begin the honeymoon adventure of your dreams!
Click here to start : http://empiredivers.honeymoonwishes.com/
If you need help be sure to check out the How It Works section, call or email
We promise to do everything possible to make sure your honeymoon dreams come true. Please don't hesitate to contact us with any questions.
We love talking to our customers!
Phone: 212.249.4534
Email: info@empiredivers.com
---
New York Scuba Diving Lessons
Training | Open Water | Advanced | Rescue | Divemaster
Discover Scuba | Seal Team | Specialties
Travel | Scuba Equipment | Dive Resources | Photo Gallery | FAQ